I remember when I was wrestling, a random thought that popped into my head (during one of those post-show conversations about the state of wrestling with the rest of the lads) was almost unanimously rejected
1.
It was a simple concept and had a lot of basis in how we live our lives today, something I was always mindful of when trying to book or promote certain shows I'd been asked to, to make Irish Whip Wrestling stand out:
What if we got rid of the idea of babyfaces and heels? (good guys and bad guys, respectively)
The concept was simple: build strong, interesting characters. Give them individual strengths and weaknesses; likeable qualities and equally clear flaws. Let the fans latch onto their favourites and dislike the rest...they're going to do so anyway regardless of what bookers
want
them to do, we learned that when WWE tried to turn Stone Cold Steve Austin heel in 2001.
You look at The Wire, for example. McNulty is a cop, but is he a good guy? As brilliant as he can be, at other times he's an absolute fuck up. Then you take Omar, a criminal, voted the most popular Wire character ever in a recent poll on Grantland. Is he a bad guy? Similarly, was Tony Soprano a good or bad guy? It really depends on who you ask. Or what he was doing at a certain time.
"But these are adult dramas," you might say. "Kids aren't capable of understanding such nuances. They need to be told who to like and dislike."
Funny that, because I was a young kid when I begun to support possibly the most hated side in English football history while they were at their most hated. At around 5 or 6 years of age, while sitting in a pub watching everyone cheer Leeds United on, I decided to add balance to proceedings by shouting for Man Utd. From that moment on, Eric Cantona and Roy Keane were my heroes (aside from brief periods of obsessing over Alan Shearer and Juninho). And no matter how many people told me that they were scumbags, bullies, that they weren't that good anyway and only succeeding because of referee bias...they were the greatest players in the world, in my eyes. The eyes of - you guessed it - a child.
The shine quickly wore off when my miniature hero got relegated.
So I think we need to give kids a bit of credit.
It would also open up a whole new world of pro-wrestling storylines. No longer would WWE and the likes be bound by the constraints of having to portray one guy as evil and the other as representing all that is good in the world, fighting against the odds. That well has been truly tapped, at this stage. It's become increasingly impossible for them to write something that we haven't seen multiple times already.
But the idea was shot down, almost unanimously, by the guys in the locker room.
Their reasoning for shooting down the idea was understandable. At the very least, you need to adopt those particular roles for the dynamic of a match. If you don't have a guy to boo, when he's getting heat on the guy you want to win, you won't cheer as much when the guy you want to win comes back and starts hitting all of his big moves. I ripped off this quote from
Dark Knight Rises
during 'The AMT Sportscast', too, but it's a powerful quote that works here as well: "Without hope there can be no true despair."
So things generally work best when the crowd is almost unanimously behind one guy, and hating the other one.
Or do they?
I mean, if I were to ask you to name 20 classic WWE matches from the past decade, I'm willing to bet that John Cena would have been involved in at least one or two of them. And, even if you hate the guy, I'm willing to bet that the match would be considered classic
because
he was involved and because of how you felt about him, either way.
You think of matches like that against RVD at ECW One Night Stand 2006 (were Cena was considered the opposite of everything ECW stood for and booed out of the building as a result), versus Triple H at WrestleMania 22 (the beginning of the "Let's Go Cena" vs. "Cena sucks" movement), CM Punk at Money in the Bank 2011 and even against The Rock, in Miami, at this year's WrestleMania. All stood out because Cena has that wonderful ability to either be loved, or have people love to hate him, in equal measure. Even if you hated him, fans loved to be in attendance for his matches because they got the opportunity to voice their dislike of him. The fans were the stars of each match. He served merely as a (talented) bystander that enabled them to be.
That both flies in the face of wrestling as we know it (since the booker is the man who decides who the face and the heel is, and the measure of one's skill over the years was the ability to take that brief - as handed down to you - and 'get over' successfully in the role) and, at the same time, is exactly what makes professional wrestling great.
What other 'sport' do fans feel like they have a genuine impact on proceedings? You can cheer as loudly as you want for your relegation-threatened team against Manchester City on a Saturday afternoon, but it mightn't make a difference if they're thrashed 6-0.
Yet if Hulk Hogan has taught us one thing it is that, while wearing lycra in a professional wrestling ring, you can come back from a near-death situation if the fans simply start clapping their hands rhythmically.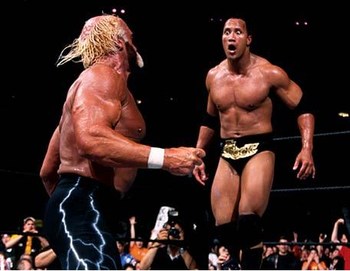 Clapping is Hulk Hogan's spinnach.
It's not the first time that I noticed this kind of trend emerge.
Before I got into pro-wrestling, I wrote for a few wrestling-related websites (411mania.com and PowerWrestling.com, the former official Fox Sports website before TNA got a TV deal with them). This was at a strange time for the Internet, pre-Bebo but just as broadband was being phased in worldwide. So it was beginning the shift from being accessible only to nerds, like me, who had the tolerance to withstand dial-up for the sake of having a world of information at their feet...to the mainstream.
During that time, I remember pitching a few ideas that were shot down almost as unanimously as my idea to lose heels and babyfaces.
What if the writers of our websites, for example, had a public diary, of sorts, where we could BS about real life happenings and use our actual writing talents to entertain the readers in a non-wrestling environment? I was told that readers only wanted to listen to us for our knowledge and insight. A few years later, blogging became an official occupation.
When I was around 15, I remember realising that the crappy webcam we'd gotten for free with our PC had a microphone that could record audio. I downloaded some shitty audio editing software and thought, "Hmm...what if I recorded a radio-style show that people could download to their PC and listen to on minidiscs and the like?" I even ran a few tests to see what the interest was like (one of which, I believe, still exists somewhere on the hard drive of Irish wrestler,
Bam Katraz
) People were happy with radio, thank you very much, I was told. Then podcasts were invented.
2
YouTube, Bebo and Facebook later came along. Websites like the ones that I worked for have since took a nosedive on Alexa and the like. The game had changed. You used to go online because it could get you access to 'experts' like me (i.e. people who had more time on their hands to Google the stuff your shitty dial-up couldn't handle). Now that the net was more accessible, people could cut out the middle man. If you'll allow me to plagirise John Laurinitis, the era of 'People Power' was born.
Instead of having to wade through long news reports now, people can simply access all the info they need through 140-character tweets. How many times do you Google something per day? At little to no cost, now
you
can become the expert. You can also become the star, by being a part of an online campaign, setting a trend on Twitter, joining a Facebook group, creating a YouTube video blog with your thoughts on the latest TV show, getting some
Burger King employees fired on 4Chan
. Whatever.
3
This has been a change throughout the attitudes of society as a whole, not just wrestling. But wrestling is slowly adapting to the change. And it could herald in a new spectacular era to rival the 80's and Attitude peaks, if they get it right.
Pro-wrestling, or at least the WWE, exists to mirror and empower how society feels at a certain point in time. For example, only in wrestling could Americans pay good money during the Gulf War to see a man come out to the tune of "I am a Real American," and leg drop the shit out of an Iraqi turncoat. Later on, through Stone Cold Steve Austin, we got to experience telling our boss to f-off and beating him up.
People who use the "it's fake" stick to beat pro-wrestling with are spectacularly missing the point...
that's what makes it good!
You can't bank on those moments in other aspects of entertainment: sport exists to break our hearts 99% of the time, we stick with it in the hope of experiencing that rare 1% moment of glory. Movies and TV have a degree of separation to them in that we walk in clearly understanding that this entire thing is a charade, but go with it.
Pro-wrestling presents itself as a real sport (though we all know the secret); the stars' presence in 'the real world' is presented as their presence in the 'fake' one (we know Chris Bale is Batman, but not everybody knows that The Undertaker is Mark Callaway, for example); celebrities (like Charlie Sheen, most recently) enter its realm as themselves; and, most importantly, wrestling uses real, live reactions to gauge and develop its storylines. Fans ultimately have the final say on the direction of the whole product. We control the script. Whereas, aside from public votes in reality TV and focus groups in the scripted mediums, we kind of have to take what we get in TV and movies. We've little to no influence in sport, just hopes and dreams that rest entirely on our heroes' performing.
How does this change in 2012, then? Well, as stated, previously our capacity for causing real change was still limited. The powers that be ultimately decided the heels and faces. We decided if we liked them in that role over a period of time.
Now, it's anarchy. We live in a world where John Cena can be booed out of a building but still shift a ton of merchandise. Where fans boo and hiss while their anti-hero, Daniel Bryan, is partaking in a wedding storyline...but only boo because they love him and don't wish to see him trapped in this kind of cringeworthy storyline.
And then there was CM Punk.
Punk changed the landscape of professional wrestling, or so we thought, last year when he picked up a microphone and ripped into his future opponent, John Cena. In doing so, he also tore into WWE's core, shit on everything the company stood for and showed it up for the shambles it had become both on- and off-screen.
4
He has since spent the intermittent year as its biggest star, terming himself 'The Voice of the Voiceless'. But, in becoming an unbeatable Champion, the figurehead of the company, a major merchandise seller and a willing participant in some of the company's most hokey storylines
5
... many felt that he had become exactly what he had campaigned against a year prior. Let's call it his 'Obama Phase'.
Until last Monday, when during a high profile title match with his old adversary (Cena), he did what we used to refer to as a 'heel turn': after the match, attacking Dwayne 'The Rock' Johnson before leaving the ring with more than a hint of bad-assery to him.
Fans...loved it.
Oh, he got booed. But that was their way of playing along. Really, fans were now salivating at the prospect of him going back to his days of dropping verbal 'Pipebombs' on The Rock, Cena and the establishment as a whole. WWE have set him up to be the anti-Cena: a guy who's 'supposed' to get booed, but will roundly get cheered. Either way, fans will no doubt split into either 'Team Cena' or 'Team Punk' and pack the houses to cheer/boo as they see fit. They'll be happy to add to WWE's bank balance, in the meantime, to do so.
If you've been following for the past few years and just felt something...lacking in the product, this is that intangible factor that you can't put your finger on. Remember back in 1998-99? The then-WWF roster was much thinner, talent-wise, than it is now. But you looked forward to each segment, even the undercard, because with it brought a guy that you loved for some quirky reason (a Godfather, Goldust, Val Venis etc) versus another guy that you strongly loved to hate (Big Bossman, Jeff Jarrett etc).
Little did we realise that these ho's were probably illegally trafficked. For shame, Godfather.
That's what was lacking: the ability to get excited because you were being engaged. Your buttons were being pushed. Despite WWE having a talent level so deep that the past decade has seen them have to split the roster into two separate entities, they just didn't have
that
. Because they were blowing against the wind. They were trying to sell us callcards when we wanted iPhones.
Now, it appears as if they're clocking onto the fact, again, that fans don't want to be seen as mere spectators anymore. We can observe any facet of entertainment in the same manner, and don't have to face mocking and scorn from wider society for doing so (not helped by the fact that they are regularly fed cringeworthy comedy skits that make them even more ashamed to still watch this shit).
Now, we want to pick our favourites and boo or cheer them regardless of WWE's wishes. Not to be particularly rebellious, just because we've grown up now and don't feel the need to be told what to think anymore.
At the heart of that is a man who, one year ago, stood up and spoke in a way that let us know that he felt how we feel. A man who has the talent to give us what we want as fans. A man who may have lost his way for a while, but who has re-found his edge because he understands what he's trying to do and how important it could be in the long-term if he succeeds. And WWE are letting him run with it.
Yep. I'm talking about The One Man Band. Wait...no I'm not. Sorry, I got distracted for a second.
Give them time to develop things, go with it for a while (even if it seems dumb at times), and let CM Punk and co tell us some stories. Not to mention the fact that, as a friend of mine pointed out while watching Raw 1000, the last man to do this has recently gone unusually quiet on the subject of wrestling. That man is Stone Cold Steve Austin, and he's widely rumoured to be Punk's partner for the next main event at WrestleMania, 10 years after his last match.
We might be in for something special yet...
***
At this time, I am delighted to announce that, on behalf of
WWE Parties Ireland
, following the success of the first-EVER WWE WrestleMania Party in Dublin City Centre last April
(pictured above)
, we'll be doing it all again this Sunday 19th August for WWE SummerSlam!!
With Triple H vs. Brock Lesnar already announced for the card, we might just see CM Punk vs. John Cena or even The Rock (if the whole Royal Rumble thing was a bluff, and I've a sneaking suspicion it might have been...). It's shaping up to be possibly the best SummerSlam in years and you can see it live on the big screen, surrounded by hundreds of fellow professional wrestling fans, with a late bar until the end of the show, food til late, and a bunch of pre-show entertainment too.
It'll take place in Captain America's, Grafton St. Tickets will be only €5 (a fraction of the cost of the PPV itself) and WILL be available to purchase online soon.
Before the show, we'll have a host of pre-show entertainment including: classic WWE SummerSlam matches on all screens throughout Captain's, a WWE-themed soundtrack to the night and a live, fan interactive, WWE special taping of my sports podcast,
'The AMT Sportscast'
, featuring a line-up we'll announce in due time.
The Mania party, as I'm sure anyone who was there will tell you, was an experience like no other (and even ended up being featured on Zack Ryder's YouTube show,
featured below
), so if you're a wrestling fan in Ireland then you definitely don't want to miss this.
We'll be releasing full event info on the
Facebook page
tomorrow (Thursday 26th July) and tickets will be available for purchase online shortly, so add the page and/or add me on
Twitter
to get the latest info as it's released.
1. To be fair, I'm not arguing that this should have been done in a small, independent wrestling promotion. We didn't have nearly the influence to pull it off and would have just confused local fans in trying it, more than anything.
2. For the record, I'm not trying to claim that I invented the idea of either blogging or podcasting. Someone out there obviously had the same idea since they have become so popular. It just goes to show, though, that what seems crazy today may actually be exactly what consumers are looking for tomorrow.
3. Even though it makes life harder for people like me, who hope to earn a good full-time living feeding you this info and presenting it in an entertaining way, it raises the bar and ensures that we have to keep on our toes and constantly provide you with new, creative ways to do so. So I like it. Since I'm not going to give up anytime soon, it forces me to improve more than the old way ever would have.
4. Only in pro-wrestling could a verbal beatdown like this serve to make the company at the receiving end more popular.
5. At various times: he was an unwitting victim of a 'text message of doom', had an alcoholic father and drug-adled sister, and most recently was best known for loving 'crazy chicks' in a love triangle scenario.