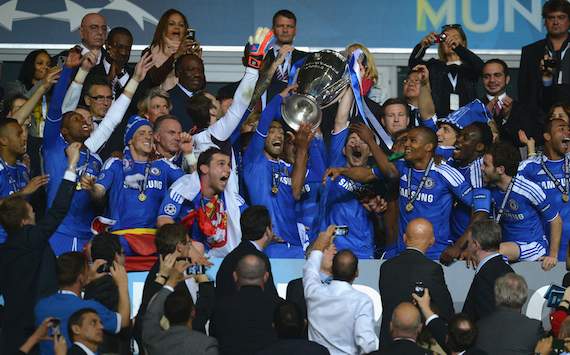 I made a post on the football section of boards.ie that reminded myself what a great season this has been, and it led me to writing this completely ill-advised review of the season at an ungodly time of night, near death's door with man-flu (a diagnosis only concluded by the amount of moans emanating from my word-hole), when I have work to suffer through in the morning.
But such are the kind of ridiculous decisions you make when you're a football fan and so blinded by passion after another thrilling climax to possibly the most drama-filled season of all-time.
And, by all-time, I mean to my recollection. This extends about as far as the end of the 1993-94 season. But let's not let the facts diminish this passion-gasm that I appear to be experiencing.
Surely even the eldest among my 14 readers will have to agree, though, when we recap all of the major happenings in both the Premiership and abroad:
Your Transaction for #1 Premiership Trophy Has Been Processed
This one still hurts. Having sat in my work canteen, muting cries of anguish to the best of my ability, while watching United 1-6 City, Everton 4-4 United and the end of the final day of the Premiership on my Sky Go, I have decided that I should just never watch a game of football in said canteen again. In spite of my suffering, though, I have to admit that I can only recall these memories with a certain begrudging fondness. I guess they are my 'Nam: yes, I will always view them through the eyes of suffering, but at the same time I knew that I was witness to an experience unlike any other. Nothing more needs to be recapped, a mere 6 days later and the story has already gone down in footballing folklore.
Abramovich's Bipolar Empire
'Rise and Fall' stories are part and parcel of football. We love it when a club returns to the top flight after 46 years in obscurity. We love when a football great of our youth reels back the years for one more defining moment (a brief mention for messrs Henry and Scholes here). But the rising and the falling aren't supposed to happen several times within one season. And yet. Sometimes, Chelsea rose and fell within the same week (beating Liverpool in the FA Cup Final, then being soundly defeated by them in the league only days later). Sometimes, it even happened in the same match (losing 3-5 to Arsenal). They finished 6th, well outside of Roman Abramovich's target of reaching the Champions' League. Yet they compensated for this by going ahead and seeing off Barcelona and Bayern Munich in two drama-filled, action-packed matches to fucking
win
the trophy! This in spite of sacking the second coming of 'The Special One' in Andre Villas-Boas. And, to continue in this extraordinary bipolar vein, the replacement who saved their season and spear-headed their Champions League win, Roberto Di Matteo, may also be sacked if Abramovich can land a candidate he deems more suitable. Absolute madness.
The Real Special One Proves How Special He Still Is...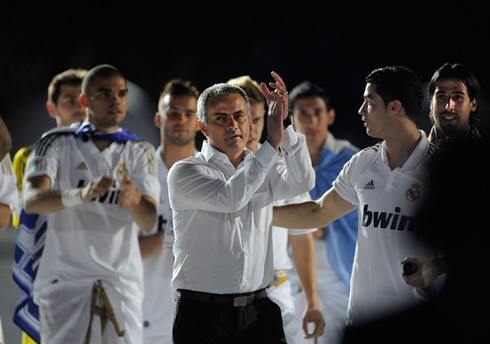 Meanwhile, not to be outdone by his former club, Jose Mourinho was casually collecting another milestone by only outdoing possibly the greatest club team
ever
! Following this, he proceeded to devour the entire of James Joyce's 'Ulysees' in one sitting by merely looking at it sternly. He then reincarnated Osama bin Laden and re-assassinated him. All just because he could. The beautiful game is becoming more-and-more like watching Jose trying to solve a crossword and then being stunned as he figures out each riddle, pausing only to brag about it and fuck with the media's head. 2011-12 saw him finally break the unbreakable and send Pep Guardiola into a year of isolation where he shall, presumably, venture to some idyllic island to 'find himself'.
Oh, and lest we forget that this season also saw the most spectacular duel between the two greatest footballing talents of our time: Lionel Messi's arguably greatest individual season of all times (which saw him net a staggering 74 goals and 21 assists) being perhaps outdone by Ronaldo's more decisive, if less plentiful, 60 goals and 15 assists. To put that into context: both men scored more individually than the team placing third in La Liga (Valencia) did in their entire league campaign. Can we not argue about whose season is more impressive and just call ourselves the winners for having witnessed it?
Levante! Villareal! Granada!
You'd be forgiven for referring to the rest of La Liga as 'Other' and writing it off, but you'd also be missing out on some other grandstand drama. How about the tale of tiny Levante holding off the dominance of Real and Barca and standing tall until around Week 11 (before still managing to secure Europa League qualification in spite of their limitations)? How about Villareal being sensationally relegated on the final day after two goals in two separate games within three minutes? The same season they competed in the Champions League, mind (That was the same day as the Premiership Finale. Being a fan of the Yellow Submarine, it was the second time that day that two goals in quick succession had broken my heart. Ouch). How about relegation-threatened Granada throwing bottles at the referee and holding him hostage in his dressing room after a correct decision cost them an important game against Real Madrid? Not bad for an 'Other' column...
The Invincibles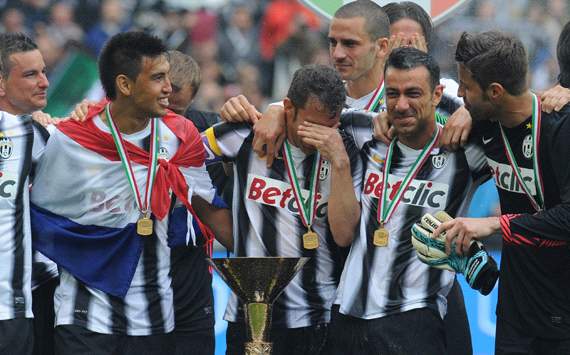 You know how I realised I was getting old? When I found out that Alessandro Del Piero was leaving Juventus after 19 bloody years! I still remember him being a 'promising youngster' for chrissakes! What a swansong Juve had in store for him, though, with Antonio Conte's men coming back from a 7th place finish last year to win Serie A undefeated. It was as if it was all planned since the Calciopoli scandal that saw them relegated: like when everyone pretends to have forgotten a milestone birthday, to leave you feeling low and unloved, only to later jump out at you and yell "SURPRISE!". Doesn't football just feel
right
when Juve and Milan are battling it out atop Serie A, though? Spare a thought, too, for Milan legends Filipo Inzaghi, Gennaro Gattuso, Alessandro Nesta, Marco Van Bommel and Clarence Seedorf, alongside Udinese's Antonio Di Natale, all bowing out after seeing their teams fill Serie A's three Champions League spots. The end of an era, as many are calling it, finishing as it began with Juve and Milan the dominant players. The right way.
See also...
I'm getting tired now, so time to bulletpoint the rest of this bad boy:
Your Transaction Has Been Refused, Please Re-Enter Pin: I'm hesitant to admit that I'm also a Paris SG fan given my staunch opposition to Man City buying the league. So, it is through gritted teeth that I declare my admiration for the efforts of tiny Montpellier in likely holding off the moneybags of PSG to pick up Ligue 1 tomorrow. They still require at least a draw at already relegated Auxerre (being 3 points ahead and tied on goal difference with their only remaining challengers) to get over the line. But when you consider that Montpellier has roughly 2% the population of Paris, they finished 14th in last year's league, were only promoted back to Ligue 1 in 2007 and have not been the recipient of a massive cash injection, even being pipped to the post is a remarkable achievement. Essentially, it's the equivalent of Stoke holding off Man City to win the Premiership. Or come second. Either way, remarkable.
Normal Football Has Been Restored: Remember how cool it was when Greece won Euro 2004? And remember how shit it was, almost seconds later, when we realised that Greece had won Euro 2004? And then Mourinho came along and threatened to disband attractive, attacking football forever, before Barcelona and Spain began to dominate and showed that sexy football still had a place in the 21st century? Well, in a world where Carlos Tevez is celebrating a season where he can dub himself a hero while being paid millions to hang out on a golf course for half the season, thank the lord for the continued success of real football clubs like Dortmund and Bilbao. Their style of play, relying on blooding young talent at the highest level and reaping the rewards with their coaches instilling attractive, flair-driven play into their games, means their continued growth is a win for the good guys.
Waaaayy for the lads: It doesn't seem like Shamrock Rovers' victory over Partizan Belgrade was this season, does it? It's a testament to how great this year has been when you have to strain to remember domestic gains for the Irish. In just three weeks time, we have our first international match in a major finals in 10 years! One of our teams nearly beat Spurs in a major European clash! Things are fucking greaaaat!
Reminder - Things Aren't Always Great: Just like that, we have to remember that sometimes, no matter how good things are on the pitch, some things are more important. Fabrice Muamba's near death during the Spurs/Bolton game was a perfect example of this (while his recovery has been another amazing, feel-good story). Gary Speed's suicide was another reminder. Stilian Petrov being diagnosed with leukemia. Even the racial abuse scandals involving Suarez/Evra and John Terry/Anton Ferdinand illustrated how football can sometimes lead us to consider our stances on subjects far beyond men being paid ridiculous sums to kick around a leather ball.
And let's not forget this:
God, I love football. Can Euro 2012 start tomorrow? Please?
Add Rick on Facebook
Follow Rick on Twitter
Check out Rick's Soundcloud for the latest chart/club tracks